Recapping several notable performances over the first three days at the 2021 FIBA U16 European Challenger in Sofia, Bulgaria. Despite Spain's heavy absence, plenty of players have stood out including Ruben Prey, Martin Kalu, Aleksandar Gavalyugov and more.
MARTIN KALU GER): Bayern Munich's new player distinguished himself as the most voracious scorer of the first three days, demonstrating a frightening offensive continuity and an outstanding ability to put the ball into the bucket in different ways. This 6-5 guard has good physical and athletic tools that can vary intensity and pace at any time; even if when he decides to accelerate, he becomes elusive. Although his technical craft is still in development, it's really tough to guard him when has the ball in his hands: catches and drives with great conviction, always in control of his movements and able to score in any situation over the head of his own opponents. Moreover, he can also move well off the ball, using blind screens to get rid of his defender and shoot off the catch (8/10 vs Bulgaria, 7/7 only in the first half). But be careful not to underestimate his defense: besides being ready to grab rebounds due to his high leaping ability, has reactive hands to steal the ball from his opponent in 1v1. Mentally, he might play with more patience and feel more calm when things go wrong, but what more could you ask from such a hungry shot-maker?
DAVID PAVIN (CRO): Although this Croatian selection doesn't have a high level talent compared to two years ago (when there were Ivisic twins and an aggressive scorer like Duje Brala), the Sonik Puntamika player is making a good impression as a soft-release shot-maker. Pavin is a tough and physical guard that knows how to use his toughness against his opponents; added to this, he shows a remarkable use of fundamentals being able to facilitate the offense either for himself or for his teammates. The softness of the wrist certainly catches the eye when he has to create shots, whether changing pace off the dribble and finishing to the bottom with contact (uses the glass well to make a safe lay-up) or shooting from outside with high release mechanics: the results are really super with 52% FG and 10/19 beyond the arc in three games. He can also play as secondary ball handler thanks to good court vision, nice IQ and the ability to trigger his teammates as standstill or in transition. Defense is the area where he should work mostly to raise his aggressiveness, focus and game understanding, in order to make a considerable upgrade for his future stock.
SZYMON NOWICKI (POL): Standing 6-6 ft, this wing has a truly intriguing potential from a physical and technical standpoint: in fact, has a lanky frame which combines good agility and speed in moving between spaces to catch and convert the ball into the basket from any spot. His offensive production is mainly off-ball (29 points with 9/14 inside) as an inside target from PnR or backdoor cut; can also hit beyond the arc but his mechanics and not straight release limit his offensive impact. In defense, his effort is wavering within the game: although he has long limbs and bouncy legs to contend for the ball under the boards, he lacks vertical leaping and competitive spirit to overpower his opponents. If he gets put in the hands of coaches who can adequately stimulate him to progress, the future will be bright for him.
ALEKSANDAR GAVALYUKOV (BUL): Surely one of the funniest players to watch of the host squad, he is a sharpshooter in a 6-2 body: small, agile and fast, he gets excited with the ball in his hands through a fast and disarming dribble (even under pressure) and quick shot creation. He prefers to hit from the perimeter with a pushed mechanic that produces a high arc, but he can also dig into the spaces inside and lay the ball into the bucket even with contact.To complete his technical skillset, he is also a decent PnR and drive&kick passer. He's a proactive defender with quick lateral movement and reactive footwork to stay in front of his opponent; he can be more reactive in off-ball defense. Very passionate and uplifting personality, always ready to encourage the positive plays of his teammates.
ROBERTS BLUMS (LAT): Son of European veteran Janis Blums, this 6-2 shooting guard is displaying a high volume and a confidence making him one of the most efficient sharpshooters in the entire event despite Latvia's 0-3 record. Has a lean but very dynamic body with reactive feet, a good control of his movements and a great ability to occupy the right spot to receive the passes and shoot (almost 48% 3p in the first three races). Has a shooting mechanic with a high and secure release, he is more prolific off the catch than off the dribble, even when he drives inside to end up with runners. Always focused on both halves, he has great leaping ability that results in grabbing rebounds.
RUBEN PREY (POR): After Neemias Queta's success overseas, another Portuguese big is emerging in this tournament. The Joventut product probably has the most developed and dominant physical of this Sofia challenger: stands 6-9 ft with a ton of bulk, solid movements and a rare ability to run fairly well on the court. His physicality has an evident impact on his game: plays as primary deep inside target both in PnR situations (even if he can refine the screen opening to let his PG take advantage) and to convert the winning passes of his teammates into the bucket with a measured touch and a good use of both hands even through contact. Secondly, can create his own 1v1 back to the basket or shoot as spot-up at the mid-range or behind the 3p line, even if the form is not very vertical and effective. On his own side, he is totally dedicated to cover inside waiting for the opponents to come to him: despite the abnormal presence to capture the rebounds (17 in the first game, 16 in the second), his rim protecting ability doesn't intimidate his opponents, but he knows exactly where to go to block the shot quickly and with the minimum effort. Must monitor for future!
NAZARII KULISHENKO (UKR): After a difficult first game challenging Ruben Prey, the Ukrainian center proved his arsenal against Switzerland (18+13 with 4 assists and 6 blocks). Standing 6-9, has a solid and long-limbed physical structure, good basic movements but above all a great ability to take a deep position inside to receive the ball. However, he should start to assert his physicality, since this lack of conviction of his own tools can limit him on both halves. Offensively, he proves to face 1v1 his defender in different ways, even from the perimeter, plus has a not bad shooting form from the mid-range but still lacks that verticality and touch dose to be effective (7/19 in the first two games). Greater confidence comes from the defensive end between deep PnR coverage, strong rebounding and good positioning to be ready to block shots.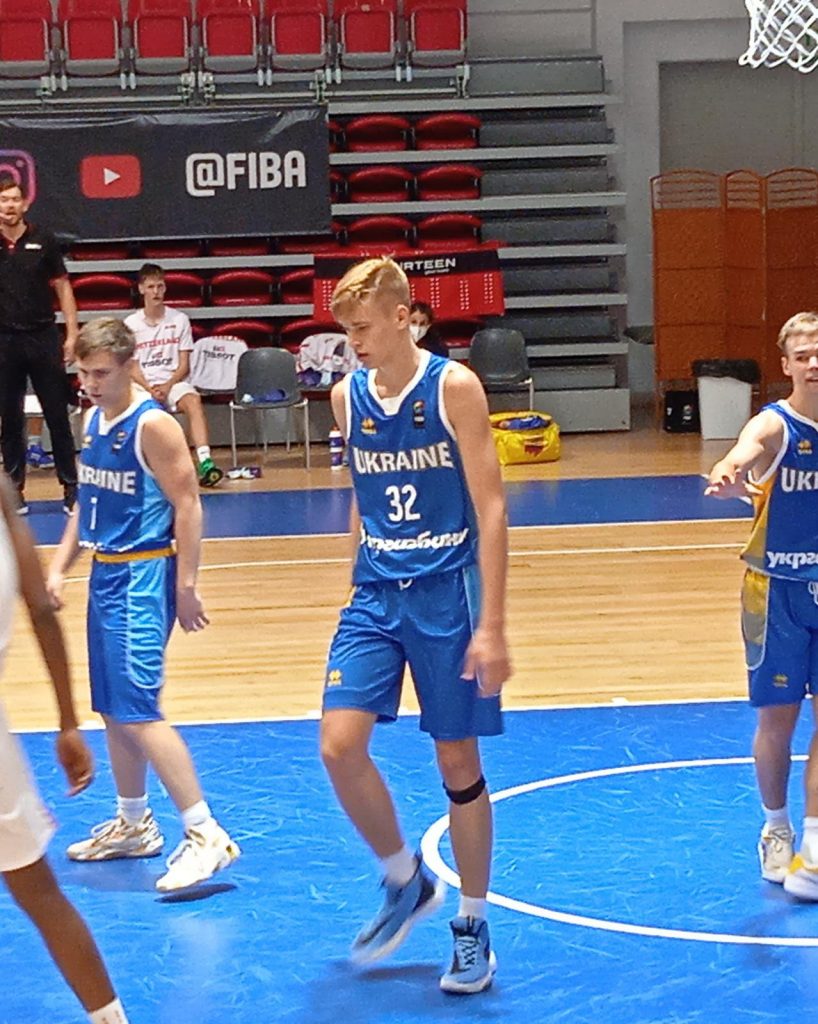 NOTABLE:Joshua Bonga (GER), Juris Vitols (LAT), Luka Alavidze (GEO), Stefanos Tigkas (CYP), Robert Hudec (SVK)
Our subscribers will receive a full issue with all the players that consider high school and college at the end of this month.