The Adidas Next Generation Tournament comes to a close this weekend in Kaunas, along with the Euroleague Final Four. Qualifier winners Real Madrid and Barcelona share Group A with Crvena Zvezda and Panathinaikos, while Joventut Badalona and Mega, winners of the other two qualifiers, will be playing in Group B along with Next Generation Select Team and Zalgiris. We bring you the players to keep an eye on during the tournament, with a collection of some of the best talented young players in Europe.
CRVENA ZVEZDA
Nikola Topic was not only the best player at the Belgrade qualifier, he was one of the main performers coming into the finals. Crvena Zvezda lost to Mega in the final in overtime, but Topic ended up as the MVP, with a run that saw him tie the ANGT scoring record in a game, with 49 points. Topic's impressive scoring ability comes from anywhere. He's able to get to the rim, stop on a dime from mid-range or shoot from outside on pull ups and spot ups. He shot 61.5% from 2 and 52.9% from three, while also dishing out 7.3 assists in Belgrade, acting as his team's main ball handler and creator. Lazar Gacic's absence will be noticed, as his inside and out scoring at the height of 7'1 can't really be found everywhere. Andrija Vukovic, at 6'10, will try to mitigate that for his team. Although he's not a floor spacer, his work inside as a rebounder, screener and roller. With 8 points and 7 rebounds per game in the qualifier, his presence and hustle near the rim will be key in helping Nikola Topic and Crvena Zvezda getting their best place possible.
FC BARCELONA
Winners of the Zadar qualifier, Barcelona arrives in Kaunas with a fun squad who likes to play fast. Their MVP in Zadar, Kasparas Jakucionis, is the floor general of this team and the man who gets everyone in their best position. With 19.2 points and 4.5 assists per game, he was involved in most of the points Barcelona scored, shooting a really efficient 68.8% from the floor and 41.4% from 3. Adding to that, his 3 steals per game put him in the top 5 across all qualifiers, with a disruptive kind of the defense on the ball. Dame Sarr, who already debuted for Barça's first team while still not having reached the age of 17, was one of the best players for the Spanish team. His 19.8 points came at a good balance between his inside and out scoring and ability to get to the line. Much like Jakucionis, Sarr's 3.0 steals a game are proof of Barcelona's disruptive defense, which powers their transition attack. At 6'7, the Swiss Dayan Nessah is still developing his body, but with great potential. His 15 points and 8.3 rebounds were huge for Barcelona, while shooting 55.6% from behind the arc.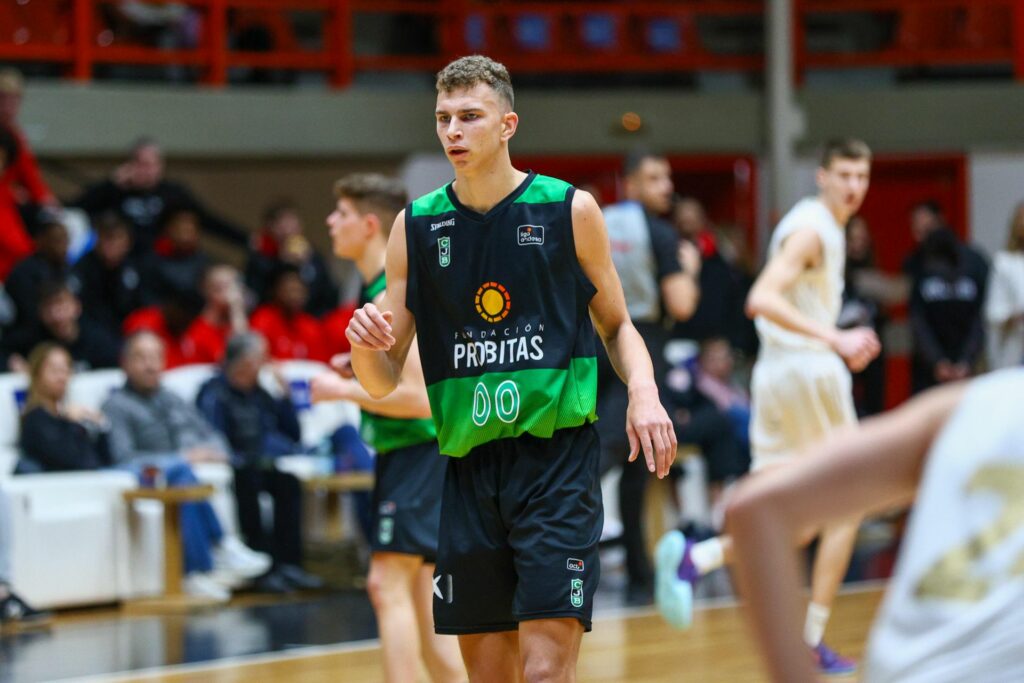 JOVENTUT BADALONA
Just a few weeks removed from repeating their under-18 Spanish title, Joventut will look to come out on top in Kaunas, against a heavy dose of Spanish teams. The 6'11 Ruben Prey dominated around the paint in Patras, with 13.5 rebounds (1st in all ANGT) and 3.3 blocks (2nd in all ANGT). He added 14.0 points per game at a 53.5% clip inside the arc, leading the Badalona team to victory with his rim protection, lateral quickness and mobility and by using his size inside. Conrad Martinez plays as the main ball handler for Joventut, having collected 15.8 points and 4.8 assists in the qualifier. A guard that likes to get to the rim, quick with the ball and someone who has been improving his decision-making. On defense, he likes to put pressure on the ball and can come away with steals or force turnovers using his quickness.
MEGA
Mega got the win in Belgrade on the back of their impressive collective effort, but there are still some players that deserve a closer look. Filip Jovic has the size (6'9) to be able to score inside. Has a lot of strength and attacks off the perimeter, getting to the rim at will. With 19.3 points/game, shooting 66.7% from two. Bogoljub Markovic's creation off the mid/low post at 6'11 really is a sight to see. He uses his body really well and stays patient in trying to get his shot off. With 6.5 rebounds, his use of his body to get an advantage on that front is impressive. The main assist man in the whole tournament qualifiers, Andrej Musicki was a bit shy in scoring, but was able to get all of his teammates involved consistently. His timing on his passes and court vision should be noted.
NEXT GENERATION TEAM
Four talented-packed teams morphed into one. NGT Kaunas will prove to be a star-studded team with some of the best players in Europe. Aleksandar Gavalyugov and Illan Pietrus compose a great backcourt. The Bulgarian shot 14 of 25 in Zadar on his way to 13.8 points a game. He also dropped 5.0 assists, providing shot creation for his team. Shot creation is something that won't be missing with Pietrus. 20.3 points on 54.1% from the field, while going to the free throw line 5.7 times a game, the French was always a problem to anyone guarding him. The two-way play of Mohamed Diawara and Jakub Szumert will be key for NGT. Diawara can perform in various roles, looking to score or facilitate, playing more inside or outside and looking to shut down players on the perimeter or close to the rim. He is a really complete player who scored 11.0 points and collected 8.3 rebounds in Munich. Szumert is more of a 3-and-D prospect. He can guard inside and out, with impressive size for a forward – 6'9 – and strength to stay with bigger players. On offense he doesn't need much of the ball, spacing the floor to spot up or cutting behind defenses and going for offensive rebounds (he had 2.3 in Munich). David Mirkovic averaged a near double-double at ANGT Belgrade, with 17.5 points and 9.8 rebounds. Strong build and excellent size at 6'9, he's able to get to the rim or pull up from mid range, having shot 52.6% from two. The Senegalese Mouhamed Faye has great physical tools at 6'10 and a strong upper body. He shot a mind-blowing 82.4% in Zadar en route to 14.8 points and 10.2 rebounds (4.5 offensive rebounds).
PANATHINAIKOS
Panathinaikos' combination of talent didn't produce great results at ANGT Munich but earned them a spot in Kaunas. Alexandros Samontourov is the clear headliner at 6'11 with impressive mobility and shot making. He dominated with his back to the basket, creating a ton of offense off the post and becoming the 2nd best scorer of the tournament, with 22.3 points. Despite not shooting it well from three, he has the ability to hit from outside. But even when he's not, he shot 74.5% from two at the first ANGT. His length should create problems to offensive players too, with his skill as a rim protector. Neoklis Avdalas has a rare ability to see the floor and get the ball to his teammates at 6'5. With 5.8 assists, he was able to create for other off pick and rolls and drive and kicks, finding mostly open shooters. Not really tasked with scoring, his 11.3 points in Munich were a good indication of the potential he has in that regard.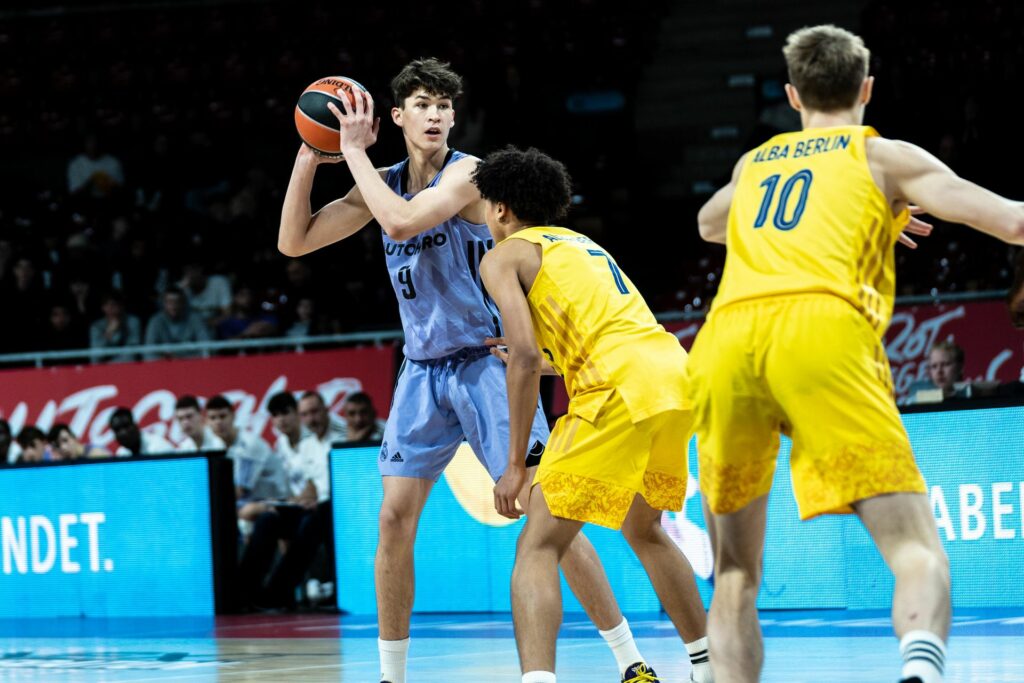 REAL MADRID
Real will be looking to avenge their loss at the Spanish under-18 championship and also regain the title of ANGT. To achieve that, Munich's MVP Hugo Gonzalez will have to continue to show his impressive talent and competitive talent on offense and defense. It's tough to choose his best skill as an attacker, as he does a great job of getting to the rim off a quick first step and finishing through contact, but he also shot 61% from 3 at 4.5 attempts per game in the qualifier. He can be a high volume scorer even without having much of the ball and a good defender, who takes on the challenge of defending the other team's ball-handlers. Madrid's point guard, Egor Demin, is 6'8 but you could barely tell by the way he moves and keeps his dribble. He was the team's floor general, collecting 4.8 assists, while also shooting 52.9% from three, with a beautiful stroke on spot ups or pull ups. Jan Vide, his backcourt partner, completes Real Madrid's three-headed offensive monster, with his ability to get into the paint to finish with floaters or pull mid-range shots, off pick and rolls or quick changes of pace in isolation. He shot 64.1% from two and added 3.3 assists.
ZALGIRIS KAUNAS
The home team will look to capitalize on that, after a really good outing in Munich. Justas Stonkus was part of the All-Tournament Team with his ability to get to the rim and the free-throw line, while also making defenders pay if they leave him open behind the arc – he hit 2 threes per game in the qualifier. The explosiveness of Vytautas Zygas should bring scoring and offensive rebounding off the wing. He had 12.8 points on 55.6% from two and 2.5 offensive boards, coming from the perimeter and using a special leaping ability. Zalgiris should use every bit of Aleksas Bieliauskas 6'9 height and build. A strong inside player who rolls to the rim with intent and can finish against contact, going after every offensive rebound.