The two first days of action are in the books in the Villa de Íscar International U16 Tournament, and we will give a brief recap of the most impressive performances from days 1 & 2. As mentioned in our tournament preview, the Íscar tournament is a marquee date on scouting calendars – one of the only chances of scouting the yearly U16 generations of several European countries head to head. This year, Greece, Italy, Portugal & Spain all brought their U16 squads, and they are competing at Íscar alongside the Spain U15 squad and a regional select team.
Top performers – Day 1
Diego Niebla came in as one of our players to watch on the younger Spain U15 side, and he did not disappoint in the debut against Portugal's older U16 generation. Niebla looked every bit the athlete he was billed as being, guarding Portugal's 4s but mostly playing as a faceup forward on offense. His athleticism was impossible to stop for Portugal, as he kept blowing by defenders using his first step and accelerating past them in transition, forcing fouls over and over again. He also showed his speed and power attacking closeouts, as well as his soft touch in making a contested midrange turnaround jumpshot.
He will face a much tougher challenge on Day 2 against Italy's stacked U16 roster, with the likes of Maikcol Perez and Patrick Hassan manning the wings, but this was still an encouraging start for the young F.
Ignacio Campoy impressed here in Day 1 by playing a very standard Campoy game: he was efficient, mistake free and very business-like. Despite still recovering from a flu-like illness that prevented him from training and playing his regular minutes for Real Madrid's U16 squad in their mid-season tournament this past weekend, Campoy was able to put up an efficient 26 points in his barely 19 minutes of play. Campoy has long been one of the most reliable players in his generation: he stands tall at 6'7, has a wide frame, smooth athleticism, a textbook jumpshot that he makes efficienty, a functional dribble that he can use to attack closeouts and an effective cutting-and-passing game.
He profiles mostly as a play finisher and ball mover on offense, with few responsibilities generating on the ball, but he is still Real Madrid's secondly leading scorer this season with 17 points per game and his seamless ability to put the ball through the basket shined here, albeit against an admittedly weaker Castilla y León regional select team.
Caetano's statline in this game was not all that impressive, totalling only 5 makes in 18 field goal attempts, but his speed, shiftiness and ability to push the pace did shine through. Not a very tall player at 6'1, Caetano is quick, keeps the dribble low and has some explosion to him. On a Portugal team lacking primary generators both on the perimeter and inside, Caetano was the only real option to create advantages and then get the play moving by kicking out to teammates. He will need to continue working on his craft, as, profiling as having below-average height for the next level, he will struggle at the rim until he polishes his finishing ability.
Playing his regular basketball at Centro Nacional de Treino, Portugal's high performance center for basketball players, Caetano does have some upside as a perimeter creator and we will monitor his performance in the game against Italy on Day 3, where he will face much tougher guards, including one of headliners of this years' tournament, Italy's Adrian Mathis.
Something of a well-kept secret up until this summer, as he played in the North of Spain in quite a small club, Huelves looks much improved from his appearance in Melilla for the U15 Torneo de la Amistad in July, where he looked passive and sometimes overwhelmed by the pace of the games. His move to Zentro Basket, an intensive academy-like programme in Madrid, has allowed him to play against high-level competition, including earning some minutes at U18 even against tough squads like Real Madrid, and it shows. He seems more poised and in control, as well as simply more powerful athletically than he did last summer. With great scoring instincts, an interesting blend of physical tools and technical skills and a knack for filling up the statsheet, the remaining games for Huelves here in Íscar will give us a better benchmark for his status as a prospect.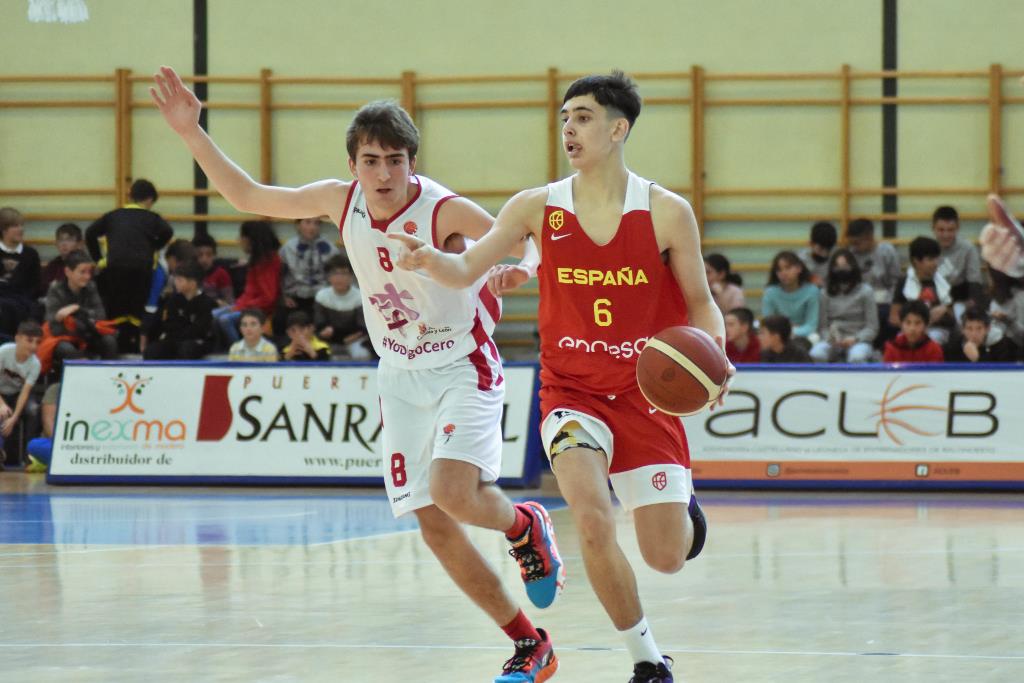 Top Performers – Day 2
Italy U16 blew out Spain's U15 National Team by a whopping 113-62, and the game was really over in the first quarter already. This gave Italy the chance to rest their starters and spread the minutes out among all their players, and no one took advantage of this better than Tommaso Pillastrini. From an atypical background, as he's the son of a prominent coach but plays in a small basketball club that doesn't regularly compete on a national level within Italy, Pillastrini is himself quite an atypical player. Standing somewhere around 6'3 or perhaps 6'4, Pillastrini looks nothing like a basketball player: he isn't an athletic young man, doesn't have ridiculously long arms and doesn't really have a chiseled frame.
What he does have is skill and intelligence. Although the form on his jumpshot is unconventional and he gets very little lift, the footwork is pristine and the release is quick. He knocked down all five of his perimeter shots today, but most importantly he hunted them with confidence. He combined that with some smart off-ball movement, scoring off of cuts and dumpoffs, and generally showing his knack for scoring the ball in a variety of ways. We will see throughout the tournament whether this holds up against tougher competition; for now, Pillastrini made the most of his playing time here in Italy's first game.
Castilla y León, the regional select U16 team, got the upset win here in Day 2, beating Greece in convincing fashion 71-82, and local guard Miguel Melgar looked like the best player on the court. A guard with some size and good length, he is coordinated and fluid, and used his shiftiness to get to the rim against the Greek guards, where he was able to finish with craft around the rim or find teammates either for dumpoffs in the dunker spot or for kickouts to perimeter shooters. Greece never quite figured how to stop him from generating advantages and he seemed a step ahead of his opposition during the whole game.
Having been in several National Team MiniCamps before, Melgar did not quite make the cut for the Spain roster either last summer or this winter, but he sure put his cards on the table with an impressive display and got his team a well-earned win in Íscar.
Mattia Ceccato took advantage too of the playing time to post an interesting statline and leave a few flashes of upside. A tall guard with exceptionally long arms and who, given his build, may not be done growing, Ceccato is deceptively speedy and shifty. He also has some very nice vision and attempted a few brave passes, some of which landed and some of which resulted in turnovers. This game against Spain's U15 squad was an ideal setting for a player like him, as the game featured plenty of fastbreaks and open court action where he could use his athleticism and make reads with plenty of space.
It will be interesting how much of this flashy creativity he can display once the competition stiffens up, especially if the 1st place game on Saturday ends up being against Spain's U16 team, which features more athletic and polished wings who will test his ability to generate in 5-on-5 settings against tougher competition.
Greece lost in convincing fashion against the regional Castilla y León U16 squad, and Vassilis Pourlidas was essentially the only Greek player that kept his cool under pressure and looked like he belonged at the level of competition that Greece usually plays at. Standing approximately 6'2, Pourlidas has good length and athleticism, with a decent frame that should continue filling up in time, good strength and balance for a guard and some explosiveness to blow by defenders.
Already earning minutes in lower level professional leagues in Greece, his experience showed as Pourlidas was calm and collected, evading the Castilla y León press easily and avoiding turnovers in the passing lanes or in drives. Despite the loss, Pourlidas had a solid game while filling in for several injured Greece guards and wings who couldn't make it to Íscar, and his team essentially fell apart whenever he was on the bench.
Cover photo credit: Villa de Íscar.