After a dominant tournament throughout, Italy were crowned champions of the Íscar International U16 Tournament, defeating Spain U16 in convincing fashion after a dominant third quarter. The final score was 88-66. The Italians looked fully in control in the second half, able to dictate the tempo of the game and impose their physical advantage over the Spaniards. In the other game of the evening, Spain U15 earned 3rd place honours by defeating the regional Castilla y León U16 team 95-64 despite the regional team starting off the game in the lead. Unfortunately, since Greece U16 had to withdraw from the tournament due to illness, Portugal U16 could not participate in Day 4's games..
Italian 6'7 F Maikcol Perez took home the tournament MVP, after looking completely dominant in the minutes he played in all three games. Diego Niebla, from Spain's U15 squad, was the tournament top scorer.
We again recap the Top Performers of the day. As a reminder, you can read our tournament preview here, and our Top Performers for Days 1 & 2 here and for Day 3 here.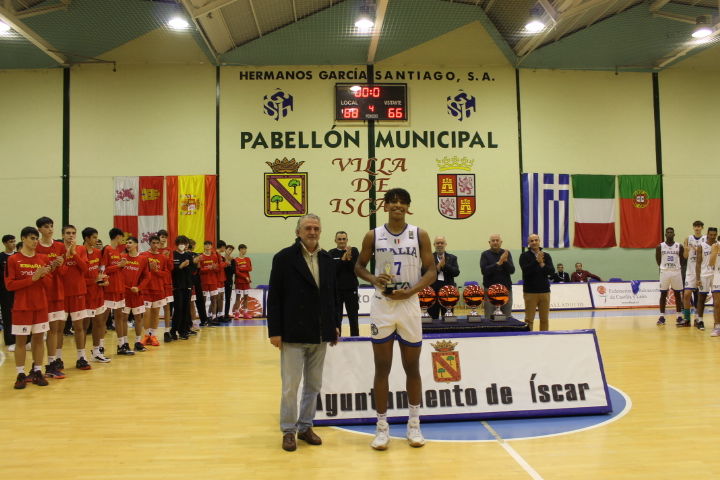 Yesterday we wondered whether Maikcol Perez could replicate his dominant play against Spain U15 and Portugal U16 when facing a tougher team like Spain u16, with a slew of taller and more athletic wing players better equipped to deal with him. The answer was a resounding 'yes', as Perez looked physically dominant in the final day of Íscar, getting to the rim at will and finishing effectively once there. When Spain began overloading to him to prevent him from getting easy scores at the rim, Perez was able to distribute as well, notching 6 assists as Italy's shooters capitalised on the space he generated.
Perez had a very effective tournament overall, establishing himself as one of the players to watch leading up to this summer's FIBA U16 European Championship.
Máximo García-Plata continued with his eye-opening play in this final, looking like the only Spanish player able to create offense from the perimeter on one-on-one or pick and roll situations. Again, we wondered yesterday whether his play would translate against a more demanding Italy perimeter rotation, but García-Plata plays in the Madrid region and is used to facing top level competition from the likes of Real Madrid's and Zentro Basket's U16 rosters, and he seamlessly replicated yesterday's performance in the final. He scored efficiently, doing most of his damage in the first half, when he went on a crazy run sinking multiple threes in a couple of minutes, playing with confidence and combining perimeter shooting with drives to keep defenders guessing. His ball-handling and shooting looked very, very impressive here in Íscar, and, after not being in the National Team at previous stops, it would now be surprising for him not to be on the FIBA U16 European Championship roster for Spain.
Having taken more of a secondary role here behind Tournament top scorer Diego Niebla, 6'2 Marcos Zurita exploded here on the final day, notching 26 points but, perhaps more importantly, commanding the Spain U15 comeback in a memorable third quarter, where his 12 points turned the game around and gave Spain a 10 point lead after trailing by 10 at half time. Zurita is a skinny guard with good length and solid coordination and fluidity who possesses a very polished skillset. His pull up jumpshot is crisp, and he is able to pull up even coming off a pick and roll for off the dribble threes. He drives both left and right and can play on or off the ball, being used to playing alongside other perimeter generators as he does at the club level for Real Madrid. Lacking the dynamism and ball handling of a classic point guard, Zurita nonetheless knows how to play and can run an offense on a whim, which he did here at times for a U15 Spain side that featured only two traditional point guards. Still only 14 years old, we will keep monitoring Zurita's performance in the future as he grows into his body and continues expanding his game.
Adrian Mathis went through this tournament as the clear-cut second banana to Maikcol Perez, who was the more commanding presence for the winning Italy U16 side. Despite not having an explosive scoring outburst at any point in Íscar, he was a consistent threat from all levels and averaged 12 points per game. He showcased his smooth scoring ability, with a polished handle and footwork, especially when squaring up to take off the dribble jumpshots, and with his explosive leaping which led to some highlight reel finishes at the rim, usually making tough layups through contact where no other guard in this setting would even go to the rim. His speed and athleticism make him a constant threat to score in transition or to push the pace, and it showed here as Italy outscored Spain in fastbreak points by 17-9. Overall, Mathis was the leading scorer in the final for Italy despite not making his threes and being guarded for many minutes by his teammate at FC Barcelona Raúl Villar, who is a great one-on-one defender, and this was an accurate reflection of his play during the whole tournament.
With a somewhat unexpected scoring outburst, Lonati was the X-factor for Italy in the 1st place game against Spain. Lonati is a 6'4 G with average athleticism but a strong body who adds value on both sides of the ball. On offense, Lonati here in Íscar was first and foremost a shooter, showing a willingness to fire threes off the catch whenever defenders overloaded Italy's main creators, Perez and Mathis, and to a lesser extent also Patrick Hassan. He added also some secondary playmaking and plenty of physicality, contributing to setting the tone for Italy's wings with his intensity, motor and willingness to mix it up. He made his 3s today and that obviously made him look better, but he had a solid tournament overall as part of a deep, skilled and physical Italian perimeter rotation, and was a factor in them winning the tournament in the end.
Ángel Cejudo capped off an impressive tournament in Íscar with a first half against Spain U15 where he showcased everything that makes him a great basketball player. Undersized for the big man position and not being an excellent athlete either, Cejudo makes up for it with excellent basketball IQ and a diverse skillset. He isn't the tallest, biggest or jumpiest of big men, but Cejudo is strong, coordinated, looks to have plus length and is willing to throw his body around, in box outs, screens or defensive actions. He had a couple of surprising blocks here in Íscar, showing his excellent timing and positioning, but overall he protects the rim by being in the right place and forcing the attackers to go through his body for finishes. On offense, he has a diverse skillset, as he has good dribbling and shooting skills for a big, even occasionally bringing the ball up for Castilla y León. His team ran a lot of offense through the high post, with Cejudo bringing the opposing center out of the paint with the threat of his jumpshot and then diming up cutters or driving himself; his dribbling isn't flashy but he keeps the ball low for a big man and is controlled in his movements, keeping his head up and hitting shooters for kickouts when the defenders helped down on the drive.
Having never been on the National Team radar or the biggest stage, Cejudo is nonetheless an effective basketball player and one of the keys for this Castilla y León team that unexpectedly got a win against Greece U16 and gave Spain U15 a good run in this final game.